Whether you're an interior designer planning your next project or a design enthusiast planning your next home renovation – Here are 5 of the most notable interior design trends of 2018 that every designer, individual and agency is buzzing about!
1. Mix and Match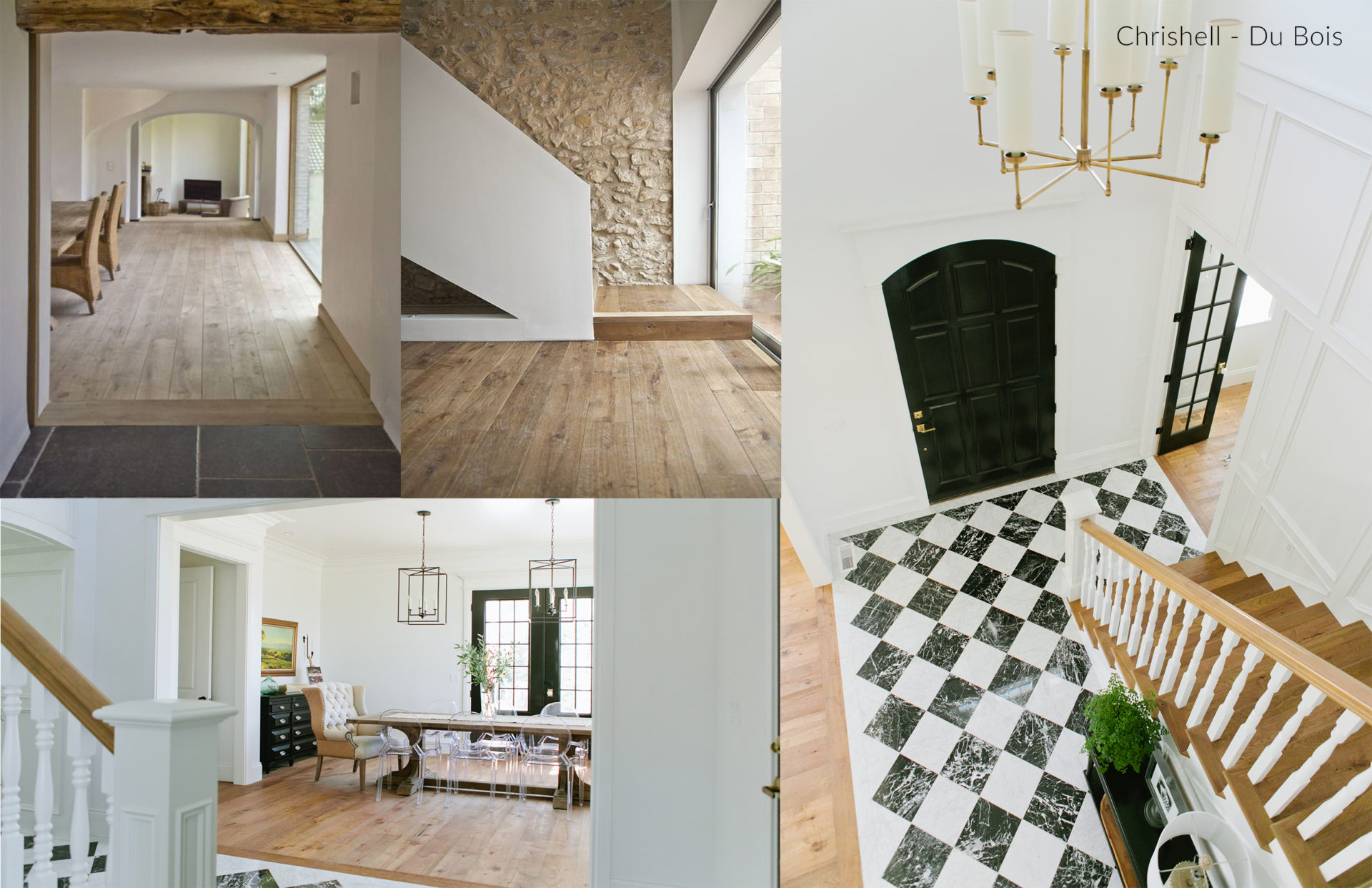 Its official! — The reign of uniformity and conformity has passed. Surprisingly bold statement pieces and contrasting decor have completely taken over the design world.
As interior designs with open floor plans have become more sought after, other elements within these interiors are now relied on to create separation within spaces. The more unique and surprising, the better!
One of the most breathtaking trends within décor is the combination of two contrasting floor colors or patterns. This technique helps to create an instant separation between spaces that walls previously reinforced. By implementing contrasting elements like this, designers and stylists are now are able to create dimension while simultaneously instilling a sense of uniqueness to their designs.
2. Maximalist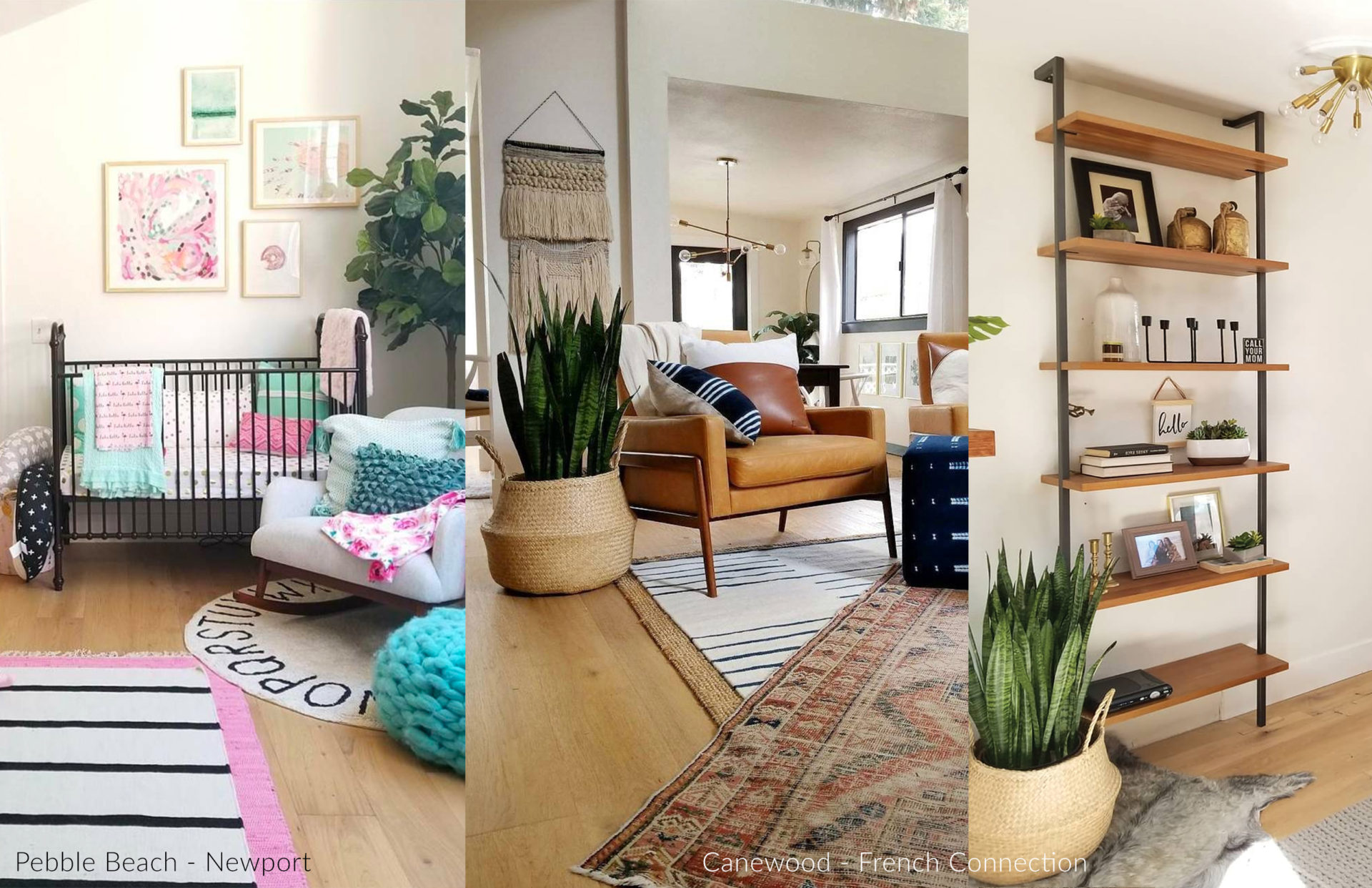 Scandinavian-inspired minimalism seems to have finally run its course.
Colorful and over-the-top designs, inspired by young designers breaking away from established codes, are now becoming more integrated. Whether its collections of objects accumulated over time, or bright elements in intriguing juxtapositions, this trend is inspired by Pop Art that is playfully mixed in with geometrical shapes.
A great way to adopt this trend in your home is to dress up your floors in a creative way. By superimposing a variety of carpet of different origins, design or forms, you can instantly transform your space from drab to fab!
3. Raw & Rustic / Designed by Nature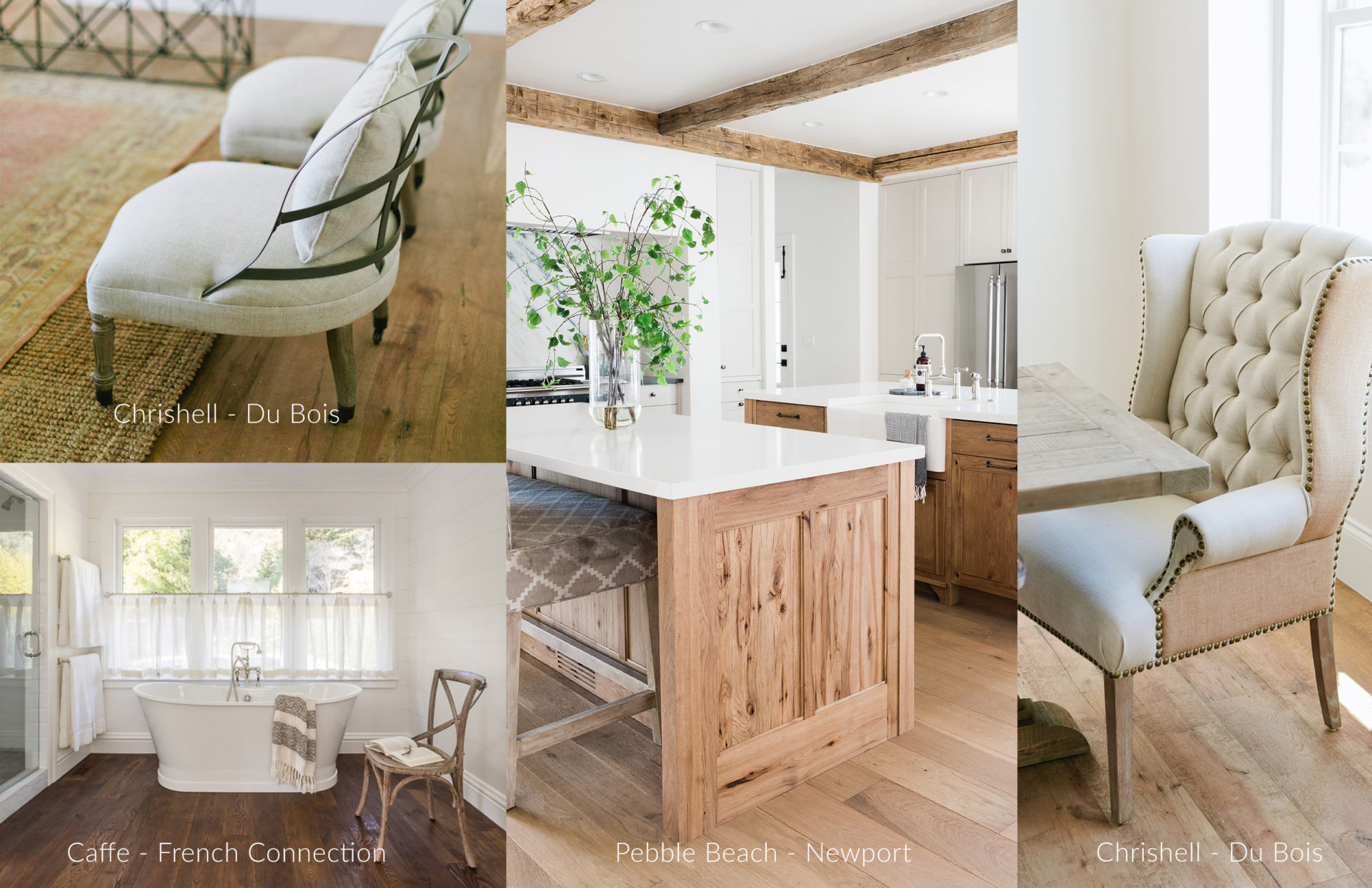 Diminish the appearance of the human impact and make your interior feel as intuitive as possible with this naturalistic trend!
In this movement, the hardwood is rugged, lived in and displays its unique irregularities. The raw esthetic of distressed wood gives the illusion that nature has saturated the urban environment and allows it to complement the modern décor with ease.
Characteristic of the rejection of the industrialism, this current trend is an invitation to slow down and appreciate the delicate and untamable beauty of nature.
4. Innovation of New Flooring Types and Patterns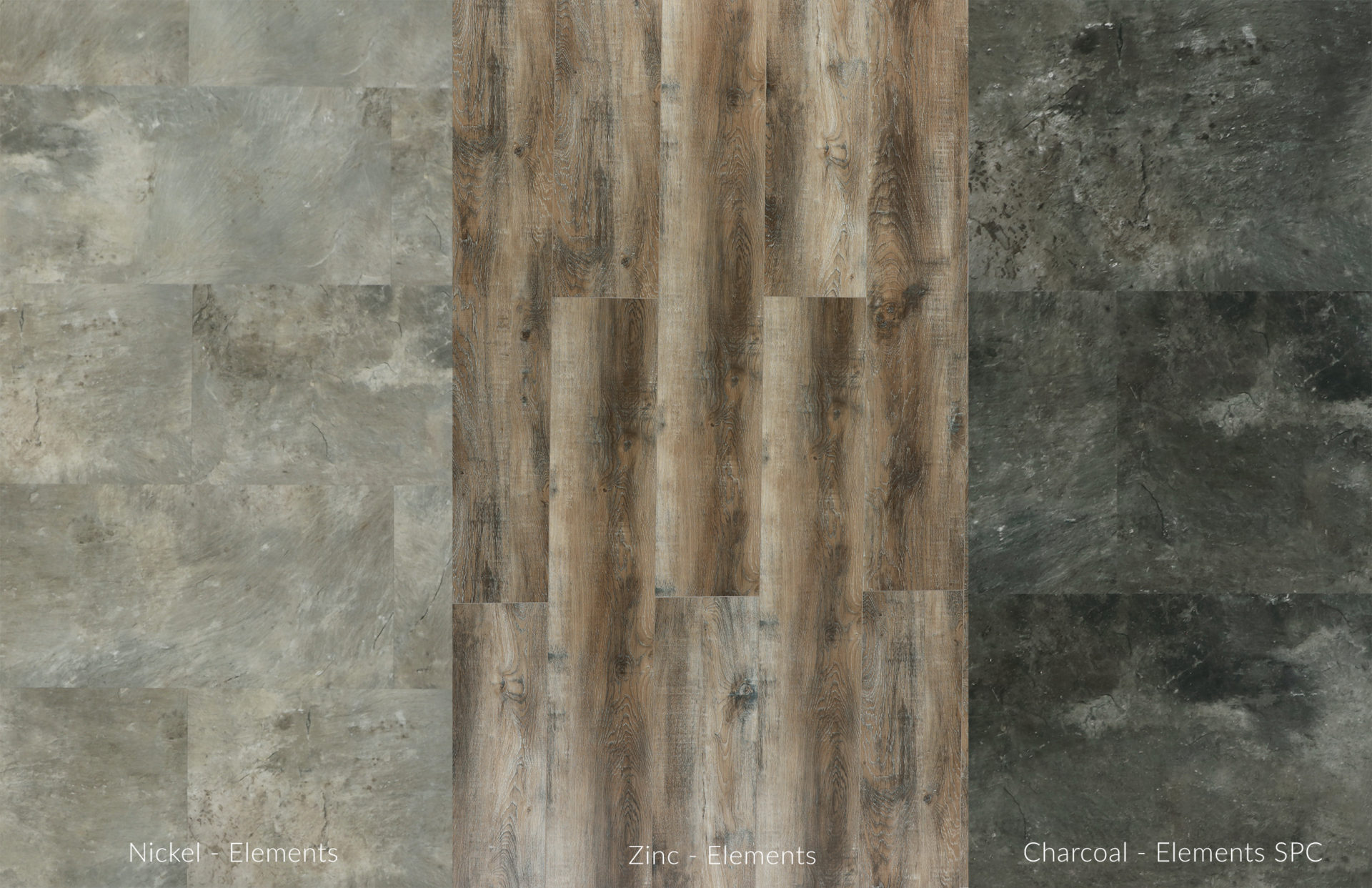 The introduction of innovative and technologically-advanced materials is one of the most notable focal points of 2018. Interiors feature inventive and ecofriendly materials, much like our WPC and SPC products, which are both waterproof, moisture repellent and non-toxic. These recently released collections display both perfectly imitated wood patterns for a natural aesthetic and abstract designs for a more modern look. These designs are beautifully manufactured, without making sacrifices on the style.
5. Unique Wall Coverings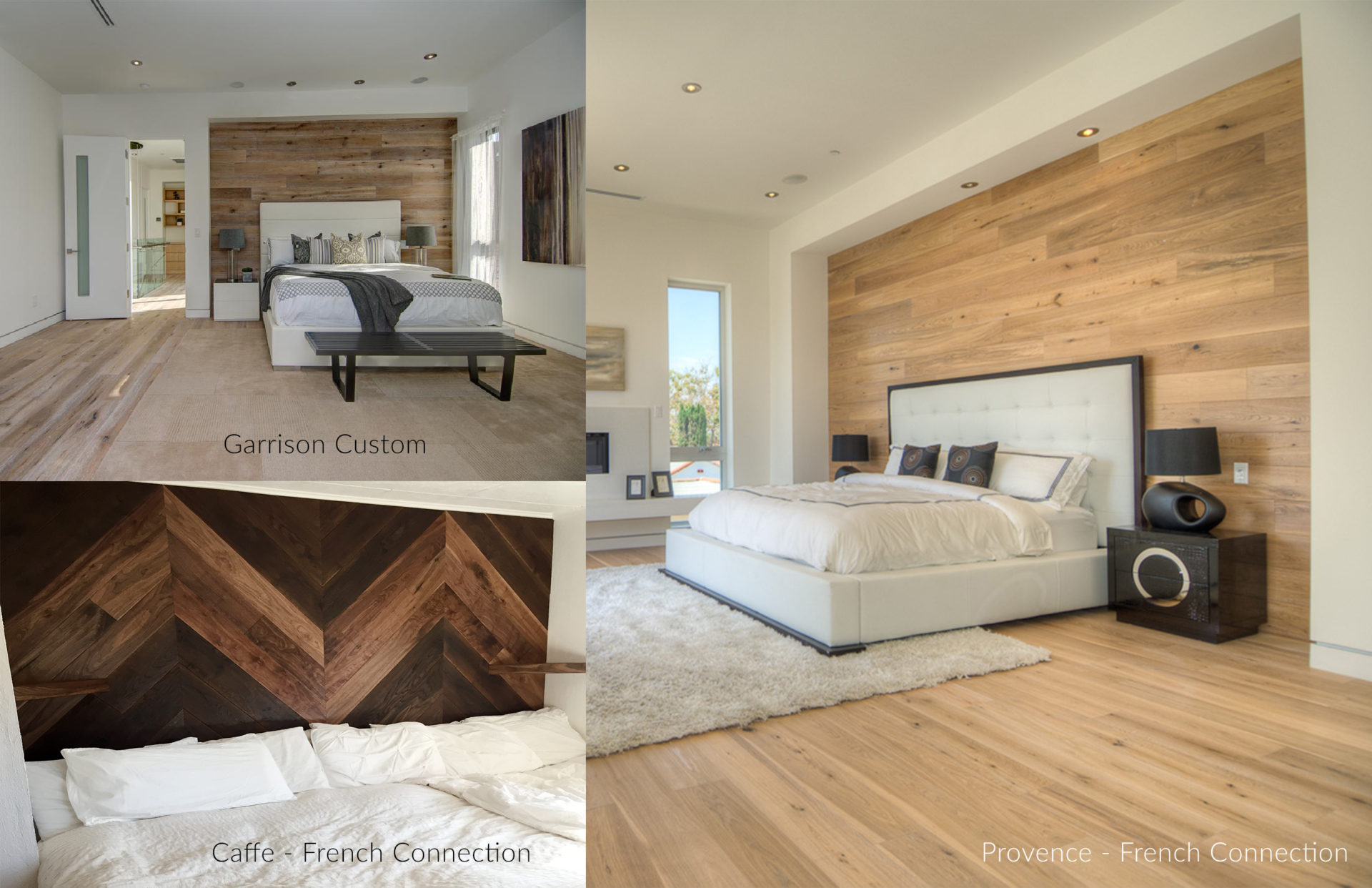 Wall coverings are making a come-back and they are here to stay!
Designed to add texture to any space, hardwood wall coverings add an element of sophistication and unlike paint and art ever could evoke, wall coverings can be utilized to add continuity to the floors or to expand the depths of a room. On the contrary, these wall coverings can also create an interesting visual contrast within a space.
Many hardwood wall coverings can be seen throughout vintage and cozy farmhouse styles (also displayed below).