Oil Finish vs. Urethane Finish: How to Pick the Best Finish for Your Floor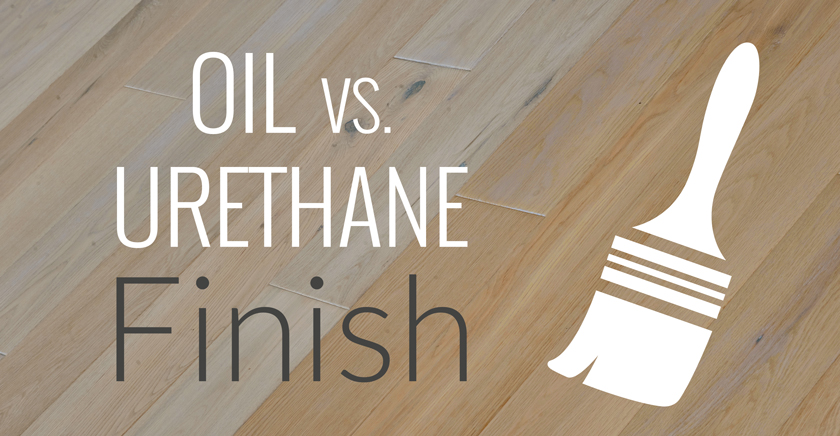 After 60+ years in the wood flooring industry, Garrison has learned a thing or two about finishes. Though we do offer unfinished hardwood flooring as well, prefinished floors are truly our forte!
The two methods of finishing really stem from two different approaches to wood. Oil finish permeates the wood, fortifying and sealing each fiber. Urethane, on the other hand, protects the wood by creating a plastic-like barrier over the wood. Ultimately, this means that with an oiled floor you're walking on the surface of the treated wood, whereas with urethane, there is actually a protective layer between your feet and the wood. So let's dive in and discuss oil vs. urethane and which is the best finish for your floor
How Do You Select The Best Finish For Your Floor? – Oil vs. Urethane
While both finish types present pros and cons, the best decision will be made by considering how the floor will be used, maintained and cleaned.




Pros of Urethane Finished Floors
Urethane has been the most common finish for many years now, as it is well known for its extreme durability. Many of the top hardwood flooring manufacturers, including The Garrison Collection, use urethane with aluminum oxide which lends another element of protection. Garrison also applies 9 to 11 coats of finish on every plank (more than any of our competitors) for ultimate strength.
This highly durable coating on the wood makes urethane finished floors extremely easy to clean using a simple regimen of sweeping and mopping with an approved wood floor cleaner. Learn more in our Care and Maintenance section.
Cons of Urethane Finished Floors
Interestingly, the durability of the finish is also its primary downside. Should a scratch or gouge be deep enough to break through the finish, which will most likely happen at some point, especially in instances of much use, much activity, pets, children, parties, etc., it can be difficult to re-coat. The method of repair will either mean complete board replacement or resurfacing of all adjacent areas as it is difficult to blend the finish on a repaired area with the un-refinished areas around it.
Urethane finished floors generally look the best the day they are installed. With use, they will become scratched, scuffed and worn, but since you are walking on the urethane finish (rather than the wood itself) the damage is usually white-colored scratches on the finish. Ultimately the only way to repair these damages is to remove all furniture from the space and apply an even, uniform fresh coat of finish – typically done every 10-12 years.



Pros of Oil Finished Floors
Oil finishes have long been popular in Europe and are skyrocketing in popularity in the U.S. more recently due to their natural aesthetics, composition, and low sheen. This rise in popularity has come about with the more rustic, European-style wood flooring movement, and as it increases in availability it shows no signs of slowing down. We at The Garrison Collection are among those who have fallen head-over-heels for this beautiful finishing style. Oil finishes highlight and accentuates the natural beauty of wood. In addition, Garrison exclusively uses WOCA oil finishes which are plant-based, VOC Free and eligible for LEED credits. Ultimately this introduces fewer man-made chemicals to your home.
While not as durable as a urethane finish, oil finishes do offer greater flexibility in repairing any damage. It is due to this ease of repair-ability that we are seeing more and more commercial projects – restaurants, hotels, and the like – opting for oil finish these days. When scratches occur on oiled floors you can buff and blend them away very easily. Even with larger abrasions, one area of an oiled floor can be sanded down, re-stained, re-oiled, and soon after the oil dries it will blend nicely with the sheen of adjacent areas. This allows you to fix just the damaged area, not the entire floor, without removing the furnishings. Combined with the more textured face treatments that are popular with oil-finished floors, even with repairs and years of use, many believe that oil-finished floors only get more beautiful with time.
Cons of Oil Finished Floors
The primary downside of oil-finished floors is the specific and critical maintenance they require. These floors require more regular cleaning with special soaps and occasional nourishment and refreshment with fresh oil. (If you consider the total long-term cost and hassle of fully refinishing urethane finished floors, however, some argue that this maintenance regimen may ultimately be superior to the long-term maintenance of urethane.) Learn more in our Care and Maintenance section or view our list of recommended WOCA Oil maintenance products.
The Bottom Line: Oil vs. Urethane
At the end of the day, both urethane finish and oil finish have many pros and cons – which is why The Garrison Collection offers both! We believe, and our warranties are a testament to the fact, that with proper care and maintenance both oil and urethane finished floors can be a lasting investment in the beauty and function of your space. We recommend careful consideration of the use of the space, the care and maintenance requirements, and the overall aesthetic requirements you desire. Your Authorized Garrison Dealer can also be a tremendous asset in answering these questions and helping you identify the finish that fits your space.