How to Choose the Right Flooring
Interested in learning how to choose the right flooring? You are in the right place! Purchasing flooring is an important investment. From vinyl to hardwood to laminate, there is a wide assortment of options that suit various needs. This can sometimes make selecting the right flooring choice a little overwhelming. Before purchasing your flooring consider these factors.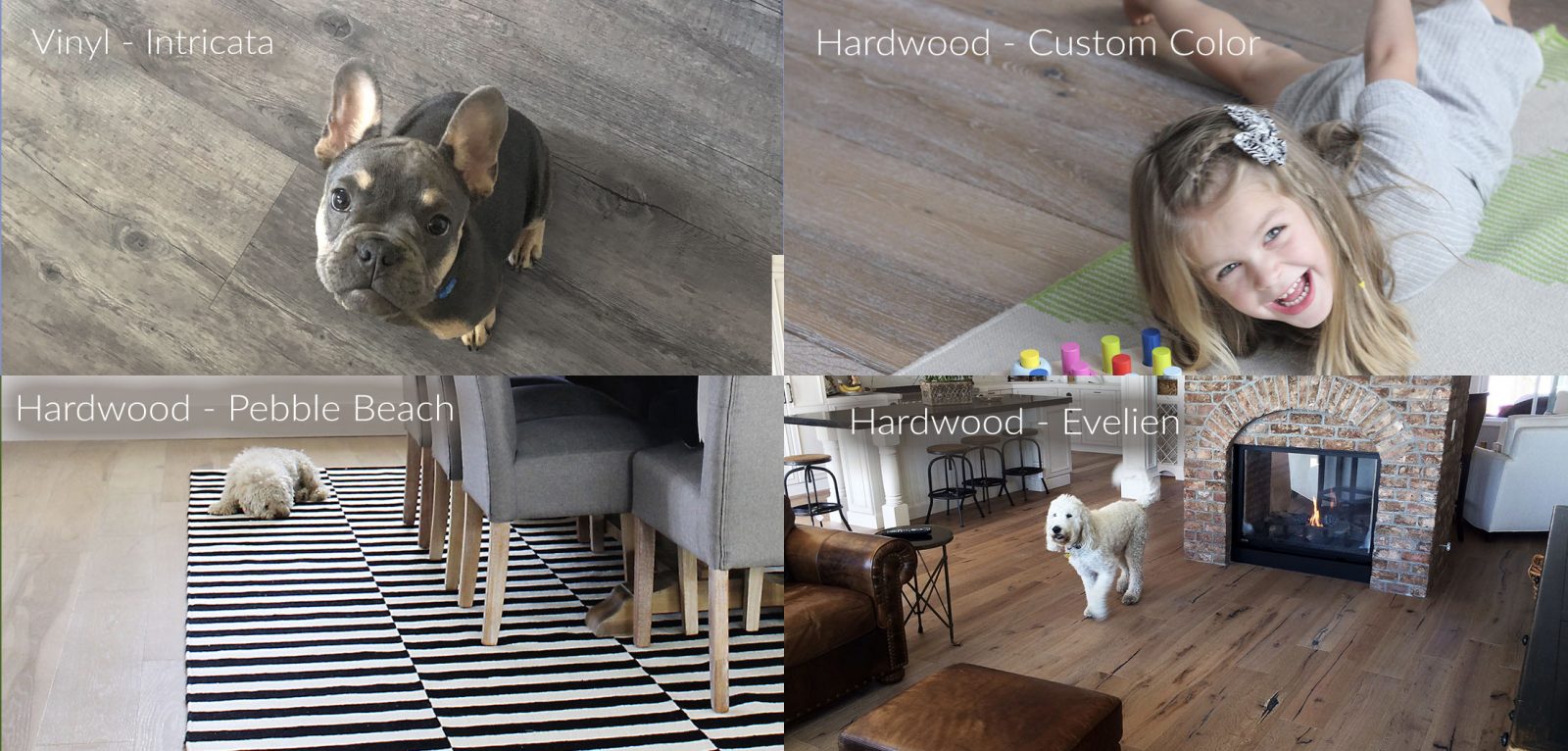 Types of Flooring
When making the leap towards purchasing new flooring, it's important to understand not only the types of flooring but how they vary from one another. Below is a quick guide on different flooring types.
Hardwood Flooring– Renowned for its long-lasting and enduring craftsmanship, hardwood flooring comes in two options: solid and engineered. Engineered hardwood is more suitable for varying humidity levels and is the more stable option. Solid hardwood, on the other hand, can tolerate very limited amounts of moisture. Overall, both hardwood selections are fantastic long-term investments that increases property and resale values.
Vinyl Flooring– Durable, versatile, and incredibly realistic – Vinyl is an option for everyone and every room. Decorate your space, from the bathroom to the kitchen to the laundry room with its water-resistant properties and natural look.
Laminate Flooring– Easy to maintain and install, laminate flooring is a synthetic flooring option crafted to simulate hardwood flooring. Not all laminate is water-resistant, so it is important to consider that when selecting your floor and its location.
_____________________________
How to Choose the Right Flooring for Your Lifestyle
From luxurious penthouses in London to serene coastal homes in Florida and everything in between, hardwood flooring has a match for you. However, due to the wide variety of flooring options and lifestyles, there is no simple, one-size-fits-all answer for what is best. Take these factors into consideration and compare them to what pairs best with you.
Finishes
Oil Finishes
Oil-finished hardwood floors are created by using oil to permeate, fortify, and seal every wood fiber. If scuffs do occur, oil finishes can be retouched by working a little oil back into them, providing a simple way to restore them to their original appearance. While they are not as durable as urethane, they offer an easier way of concealed damage.
Urethane Finishes
Urethane floors protect the wood by creating a plastic-like barrier over the wood. These floors are easy to maintain and durable – just a rag and wood cleaner is all they usually need. They can also be easily retouched with a small amount of stain or by using a stain pen, however, deep gouges will require more work than an oil-finished floor.
Overall
Urethane and oil-finished floors feature diverse pros and cons that may or may not suit your lifestyle. However, at Garrison Collection we recognize their unique qualities and choose to offer both. Proper care and maintenance will protect and extend their lifespans to be a lasting investment.
Wear Layer and Durability
The hardness of wood does not always correspond to its durability. Modern technology and a variety of factors influence how well wood flooring will withstand the test of time; not its hardness.
Wear Layer
A thicker wear layer can have a longer life than a thinner wear layer. However, this is not applicable to every lifestyle. Keep in mind that the amount of traffic and the inclusion of pets can affect the longevity of the flooring. Select a floor based on its suitability with your lifestyle, rather than just the thickness of its wear layer.
While wear layers seem to correlate with how floors will withstand refinishing, this is mostly a myth. For example, a 3mm wear layer in a popular bar may be able to only withstand one refinishing due to deep gouges. On the other hand, a quiet family home with a 2mm wear layer and exceptional maintenance might be able to handle two or three refinishes.
Urethane finishes
To some extent, urethane finishes can increase the hardness of a floor. This is due to the manufacturing process which adds a protective barrier.
Textures
Distressed or Hand Scraped
Distressed hardwood floors provide a unique, textured finish to every board. This minimizes the effects of high traffic and blemishes on the wood. Maintenance is relatively easy; however, it can take a bit more time than smooth finishes due to its rugged surface.
Smooth
Easy to maintain, smooth hardwood flooring is a beautiful option for your space. While scratches may be slightly more prominent than with distressed floors, refinishing and cleaning is a breeze.
_____________________________
How to Choose the Right Flooring for Your Design Style
Flooring is the foundation of fantastic design. As an essential element, it should not only be ideal for your space, but also for you. When selecting the right flooring color, consider the room's design style, amount of light, and most importantly, what speaks to you and your space.
Dark flooring is a chic and sophisticated option for any space. If darker colored debris, such as dog fur, is a concern then this may be the best option for you. Dark flooring shades also add warmth to your space and when paired with light tones, provide an excellent match that provides the perfect amount of coziness.
Light flooring is a clean approach that adds an airy ambiance to your space. By reflecting light, it creates an open atmosphere that can make a room appear larger and brighter. An added benefit is its ability to disguise the appearance of lighter dust and dirt. From contemporary to modern farmhouse, light hardwood is the perfect choice for any design style.
Grey flooring is a flexible design choice that works with any style. Chic and trendy, grey tones act as a neutral canvas for your space that does not overpower the original elegance. Go bold with colored accents or sleek with shades of black and white.
Medium-toned flooring is a fantastic foundation for a variety of design styles. Warmer flooring hues and natural light pair expertly for an excellent combination that is as traditional as it is enduring. Cooler flooring tones offer a more modern look that can increase the perception of size within a room.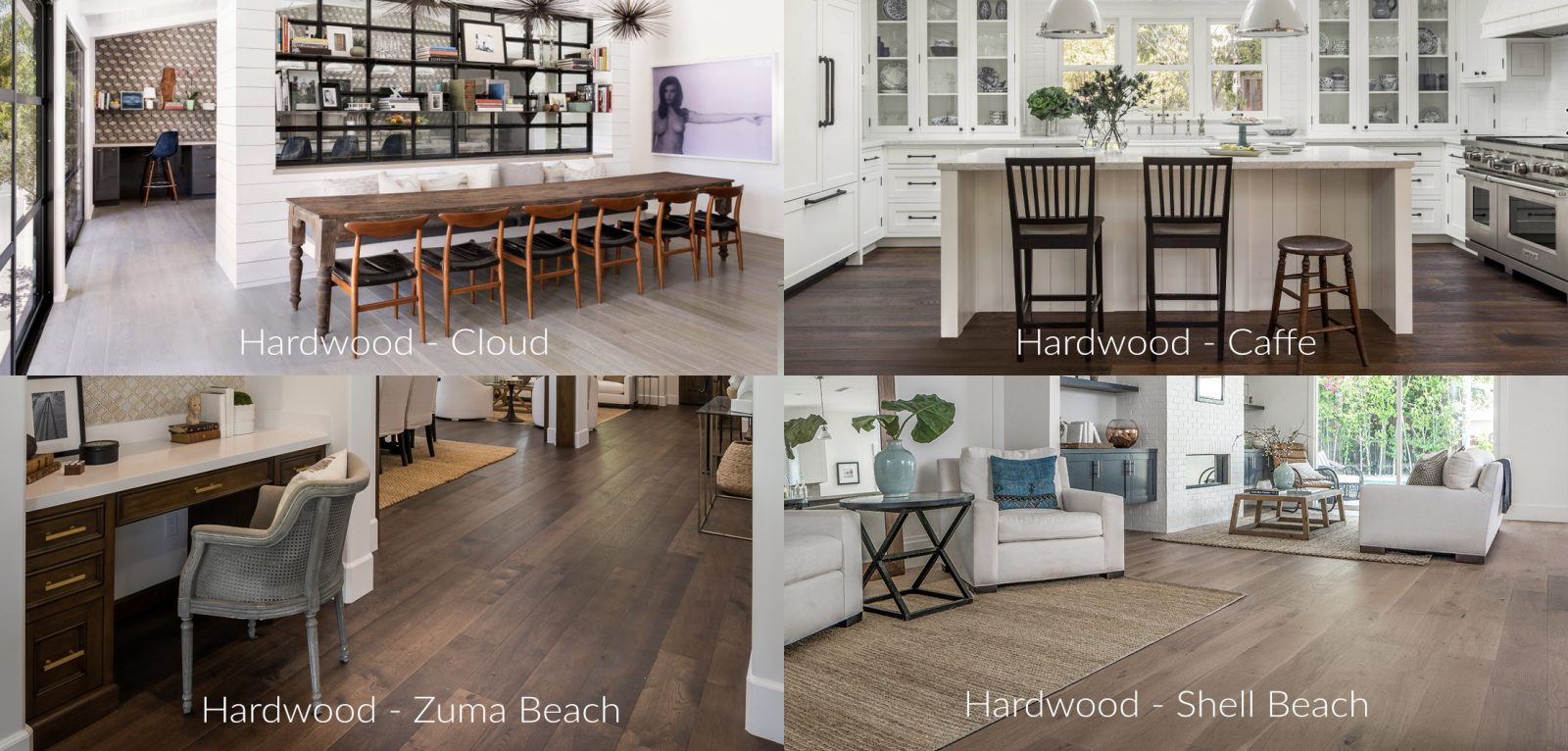 Final Thoughts on How to Choose the Right Flooring
Before deciding which floor is right for your space, consider these questions –
Where is your flooring going to be installed?
How much moisture will your floor receive?
How much foot traffic will there be?
Do you have children or pets?
What is your design style?
How much light is there in the room?
Once you have taken these questions into consideration, consider your own lifestyle and design style. The pieces that complete your design preferences are unique to you. Cater to your space and self by creating something that embraces the middle ground between these two.
"Learn to look not just with your eyes but with your heart. Find the things that connect with you. How else will you know how to design your home?" – Kelly Hoppen, Interior Designer